A Mayo Clinic physician offers a joyful plan based in science

Dr. Amit Sood, 48, reckons, based on average life span, that he has 10,000 days more to live. That sense of finite time helps him focus his attention, show compassion, be grateful and help others — all actions that lead to happiness.
Sood chooses happiness. And he wishes for you to choose it, too. His recently released Mayo Clinic Handbook for Happiness pulls together easy things to incorporate into a busy life to boost joy and fulfillment.
The Mayo Clinic researcher, educator and clinician grew up in India and was a young medical student during the massive 1984 chemical spill in Bhopal. He witnessed the resulting injuries and suffering of people whose homes and lives were destroyed by the accident. When he moved to the United States a decade later, he thought he would find, he says, "the Disneyland of the world." And yet, he saw suffering, stress and pain in this country, too.
Why, he wondered, is happiness so elusive? What is it about the human condition that pulls us to the negative?
The problem, his research showed, is our brains. They are not designed for peace and happiness but to constantly scan the environment for what could harm us, looking always for what's wrong or out of place.
And our minds wander — most of us spend 50 to 80 percent of our time thinking wandering thoughts. We can't seem to help it. When Mayo gave people 174 choices of activities that made them happy, "thinking" came in dead last. Yet, it gobbles up our finite days.
So how to break free of the brain's relentless churning, its pull to the negative?
"If we can do that," Sood says, "we gift ourselves with joy, positivity, resilience, better productivity and better thought. "
The First Steps
Sood created a four-step plan that's been tested and is in practice at the Mayo Clinic in Rochester, Minn. He teaches it to doctors trained there, nurses who work there and patients undergoing treatment for everything from cancer to heart disease. Next, he's taking it to the city of Rochester, teaching it to high school students.
"This is meant to be very real-world," Sood says. "I am not sitting on a mountain in a monastery thinking up great ideas. Most of what I'm doing is on the run. This is where the rubber meets the road."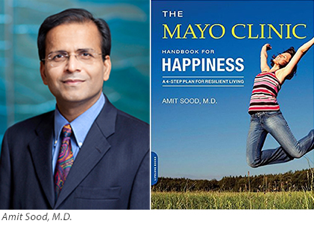 Before you even begin, Sood says, you need self-awareness about your wandering, ruminating mind. For most of us, this is easy to see when we stop and sit for five minutes. That's step zero.
Step one is harder: Train your attention. For anyone who's tried to meditate and given up, Sood can relate. "Why do we teach a method that results in failure for 95 percent of people?" he asks. Instead, he prescribes two small, specific activities.
First, when you wake up in the morning, instead of getting caught up in what you have to do that day, stop and think about a few people in your life who are making you happy — picture them in your mind, one by one. That's it.
Next, for the first three minutes when you come home and greet your family, resolve not to improve anybody. "Praise them," Sood says. "Focus on their novelty. When was the last time you stopped and looked at the color of your loved one's eyes, or the way she ties her hair differently every day or the care she puts into the clothes she wears?
"These two simple practices immediately give you joy. And they are immediately available to you. They don't deplete your energy or willpower, and they will connect you better with your family," notes Sood.
Step two: Cultivate emotional resilience. Attention teaches us to hold positive thoughts. But they will slip, and resilience helps us quickly recover from negativity and roll with life's stressors, which surely will come.
To become resilient, Sood has you use five broad principles, and he's assigned each a day of the week — a theme for your day you can always turn to when things go wrong. Over time, using the principles builds your ability to bounce back from adversity.
The Schedule:
Monday: Gratitude — focus on what is right
Tuesday: Compassion — recognize that when people are upset, it's a call for help
Wednesday: Acceptance  — creatively work with what is, be open to possibilities, control the controllable
Thursday: Meaning — it is very important, Sood says, to know why you are here. If you don't know, he says a good answer is: "I am an agent of service and love, to make a little corner of the world happier and more hopeful than I found it."
Friday: Forgiveness — choose forgiveness to help yourself
"When you have this schema, you can remember when your thoughts turn negative to ask: 'What is today? Acceptance? How can I accept what is happening?'" Sood says.
One Day at a Time
The next steps are to incorporate a mind-body practice and then finally, once your mind is in better control, to make dietary or physical changes. These last steps are easier if you have mastered your attention and developed resilience.
"It's important to sequence," Sood says, "so do the first two steps together."
Happiness, Sood says, is a habit. Some people are born with or grow up learning it, but others have to choose it.
Going back to the 10,000 days he has left to live, Sood says: "I am not like the pigeon sitting on the tree closing my eyes and thinking the cat can't see me. The cat can see! This realization that I have finite time makes me appreciate the days I have. If I have two pancakes on my plate, and that is all I have, it makes me eat more gratefully and with greater presence. "
Presence enough to make time to look into the eyes of loved ones, and see the colors there.
<iframe src="https://www.youtube.com/embed/GZZ0zpUQhBQ" width="500″ height="280″ frameborder="0″ allowfullscreen="allowfullscreen"></iframe>
© Twin Cities Public Television – 2015. All rights reserved.
This site is for information only, and is for your voluntary use at your own risk. See Terms of Use.